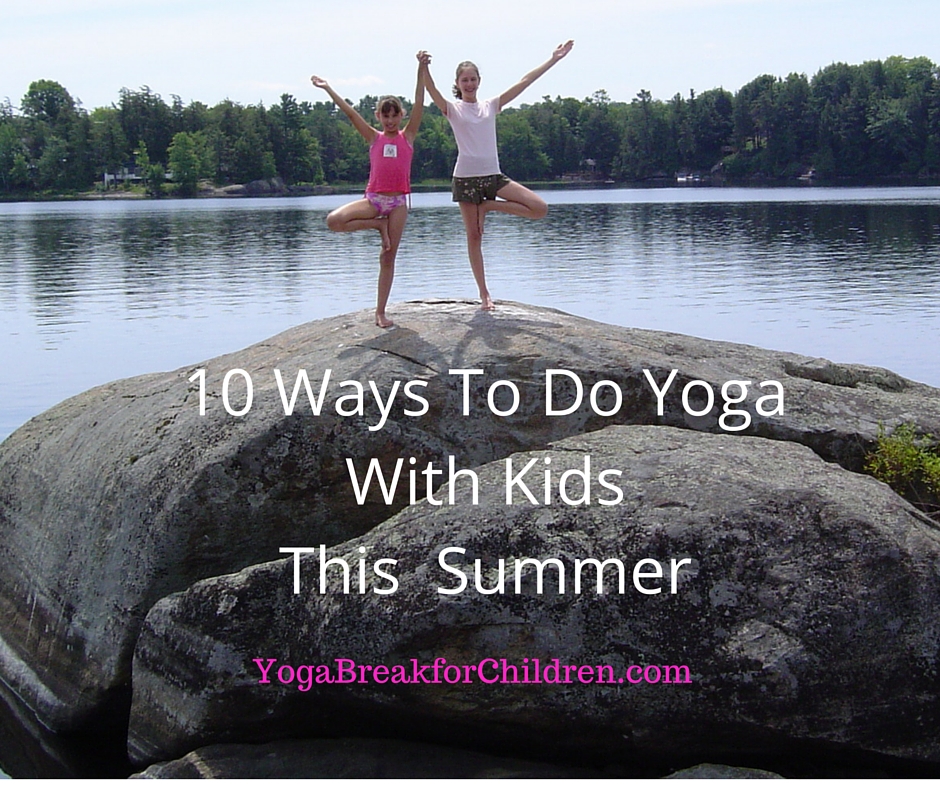 I admit, as a school teacher, I count the days until summer. For me, summer is an opportunity to catch my breath, attend to everything that was put on hold and, most of all, restore my balance and relax.
My students and their parents also count the days until the end of school. They are full of excitement about all the possibilities that long summer days can offer. At the same time, some parents get a little anxious about how to keep their kids busy.
Nowadays there are so many choices for summer activities; day and sports camps, family trips, courses, cottages, parks, playgrounds, picnics and, of course, lazy unhurried and relaxed days at home.
It's not a secret that yoga is very popular amongst adults and children alike. With so many parents practicing yoga, it makes its way into our homes through yoga clothes, yoga accessories, books, videos and apps. This means that we already have a lot of things right there, in our homes, to introduce yoga to kids or continue the practice.
You may wonder why we should do it. First of all, it's a lot of fun. Family yoga is an opportunity for the whole family to come together, enjoy healthy activity, and have great quality time.
Other benefits include:
developing mind-body awareness
cultivating physical fitness
supporting mental health
enhancing the regulation of emotions
improving cognitive performance
increasing resilience to stress
promoting calmness
creating a positive mood
There are many different ways to do yoga with your kids. Let me tell you about a few of my favourite:
Buy an inexpensive, colourful yoga mat for your child (department stores have them for $15-20). When you practice yoga at home, unroll the extra mat beside you and place a small toy or a book on the mat. Invite your child to join you to practice yoga or just let her sit and play beside you. Movement is contagious. I can't imagine your child not joining you when you do an Upside Down Bug, a Cat or a Down Dog pose. Keep your practice simple and playful. Add sounds, songs, laughter and partner poses.


.

Experiment with different locations such as the living room, balcony, or a backyard. Bring your mat to the local park, read an animal book, observe the animals, birds, fish, do a yoga practice imitating the animals and then have a picnic. It's an inexpensive and relaxing mini family retreat.


.

Take your yoga practice to the beach. I find doing yoga in the elements, like sand, grass, water, wind or rocks, brings a very different flavour, feel and challenges. Sitting poses in the sand are a lot of fun, but wait until you try balancing poses in the water! Don't forget a floating Relaxed Man Pose on the surface of the water (instead of Dead Man Pose). To have an easier time with this and relax even more, wear a life safety vest or use water noodles.


.




.

What if it rains? No worries! Organize an artist's workshop. Print some free colouring mandalas and colour them together. This activity is my favourite in the summer. I introduced it to my kids many years ago and we've been doing it at least once every summer. As a matter of fact, I'm planning to do it this summer with my daughters, who now are university students. Watercolour pencil crayons are great to use to give your mandalas a unique look. Draw people and animals in yoga poses and create different backgrounds. Be very adventurous! How about yoga in Jurassic Park, in the Frozen castle or a Star Wars ship?


.

Yoga craft! There are many great ideas: make a stress ball (balloon filled with flour), bend pipe cleaners in yoga poses, paint rocks with inspirational words or messages on them. These are just a few ideas.
.

.

Do you expect visitors this summer? Invite them to a yoga dance. To make it fun for kids and adults, provide different props such as scarves, hats, feathers, flower garlands and other inexpensive things from the dollar store. Teach one easy yoga pose to every participant, think of a way to do it dynamically and then move in a circle and enjoy.


.

Traveling in the car or on a plane is an amazing opportunity to do yoga! Almost every year our family flies to Europe and, as many of you know, it's a long flight. Of course, on a long flight like this you try to get as much movement as you can. You may walk down the aisle to the washroom and back even if you don't need to. Don't be shy to stand up and do your simple stretches in the aisle. You can also do a lot in your seat. If you're not sure what yoga poses to do in your seat, do some research before going on the trip. Google yoga on the airplane and get some ideas. Children love imitating the animals, reaching to the sky and touching the earth, all kinds of bending, twisting and stretching will do as long as you don't kick the back of the seat in front of you. Also seize the opportunity when the person in front of you goes to the washroom and do the wildest move you can think of. It's all good as long as you can move around and release some energy. Do the same in the car, just don't distract the driver!


.

Get a bit more serious with the older children. One day, wake up early, just before the sunrise, go outside where you can see the sun, and as the sun is coming up do Sun Salutations. You can make it really exciting and special by going to the park, the river, a lakeshore or climbing a small mountain, depending on where you live. After completing eight, twelve, or more sun salutes, continue with a yoga practice or sit down and do a short meditation. You can say a prayer, sing a song or tell an inspirational story. It will depend on your family traditions, and what you want to cultivate in your relationship with your children.


.


..
This summer, take the opportunity to relax. Do yogic sleep (Yoga Nidra) with children. You can do it anytime of the day. Personally, I love to do it in the second half of the day, preferably before dinner, when I am already a bit tired and need a boost to continue with my daily activities. Kids might enjoy doing it before their afternoon nap or before going to bed at night. Some people are able to transition very smoothly from yogic sleep to their night sleep. All you need to do is lay down in a comfortable position and relax. There are many apps and recordings you can use to help yourself relax. Invest a little bit of time researching what's available and pick what suits you best. Some of my favourite apps are Headspace, Calm and a free recording of Yoga Nidra by Rod Stryker and Richard Miller.


.

Finally, the easiest and most fun way to do yoga with kids is to play yoga games. I do it with my students all the time. Through games, you can teach yoga poses, cooperation, self-regulation and many other useful life skills. Most of all it's active, engaging and FUN, FUN, FUN! You can find a few ideas in this Free PDF that I put together for you to start using yoga games.


.



If you'd like to know more about how to do yoga with kids or how to teach yoga to children, check out my upcoming online training Yoga Break for Children. I designed this course based on many years of studying yoga and 27 years of experience working with children. In Yoga Break for Children you will find ready to use yoga practices, breathing exercises, meditation, games and other yoga activities for children. You will able to download posters, yoga pose cards, mp3 meditations and much more. Learn more about it here.

I hope you found these suggestions helpful and useful!
Do you do yoga with kids? We'd love to hear about your yoga adventures. Please share in the comments below.
Have a great summer!
Take a break! Do Yoga!
With much love,
Irina