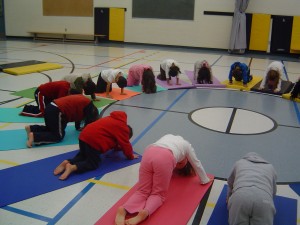 The beginning of a new school year is a big deal for teachers and parents alike.
It's not just about new clothes, backpacks, pens and books, it's about relationships with kids, parents and teachers. It's about how well we can manage loads of work, deadlines and stress. We are concern about how to keep our bodies healthy and full of energy, our mind clear, focused and sane.
As parents and teachers, we wish and hope that our children can deal with all the academic and social demands of growing up. Well, hoping and wishing is not enough.
Do we actually teach our children the coping strategies and techniques for self-regulation and self-care?
As a yoga practitioner and a yoga teacher, I always refer to the tremendous amount of knowledge and practices that yoga offers for managing the body, mind and spirit.
A physical practice of yoga poses, Asana in Sanskrit term is addressing the strength, flexibility and balance. Practicing regularly is very beneficial for our body and will prepare us for another very important practice – breathing.
In Sanskrit breathing practices called Pranayama. You might be wondering why you need to set aside some time to do pranayama if our body breathes automatically on its own.
The ancient practices of yoga teach us that by directing the breath in a certain way we can shift the state of our body and mind. For example, by breathing with extended exhalation you can calm down, relax and feel more grounded. In contrary, by focusing on lengthening the inhalation we can re-energize and get ourselves ready for action.
Yoga poses and breathing exercises prepare us for meditation, which is called Dhyana in Sanskrit. When our body is at ease, and the breath and emotions are fairly balanced, then we can start approaching our mind. The mind is restless, it is always moving and looking for the topics to think about, problems to solve or just pure amusement.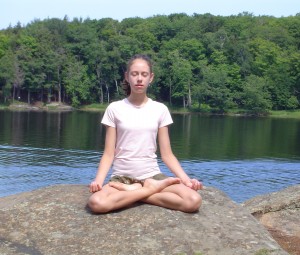 The goal of meditation is to still the mind, get rid of rubbish, and gain clarity. It is not an easy task. The experienced meditator will tell you that after many year of practice there is still work to do.
People who meditate on a regular basis will also tell you about the incredible benefits of the practice, such as feelings of calm, ability to focus, perhaps lower blood pressure, diminishing of cravings, improved relationships, and a happier and more optimistic outlook on life.
These are just a few great outcomes of yoga practice in everyday life. Those, on the spiritual path, will note the transformational experiences and the deeper understanding of themselves and others.
All of these practices are suitable for children. With the age-appropriate teaching methods, yoga practices can be taught in a school setting, yoga studios, and at home.
Last winter I came across this very informative article Should Schools Teach Kids to Meditate? I hope you will find it informative.
I have been doing yoga with children for more than a decade and found that games, books, stories, and art can be easily incorporated into teaching yoga. They add fun, creativity and playfulness to sustain children's interest.
I also like to weave into my yoga classes nutrition information and healthy life habits. This way we can address the 'whole child' and teach children skills for self-regulation and self-care that they need in every aspect of their life.
Informed by my practice and experience I designed a Yoga Break for Children program. It consists of yoga poses, breathing exercises, meditations/visualizations and affirmations. For the more complete approach, I incorporated self-inquiry questions, nutrition and healthy lifestyle tips. All the practices are organized into lessons that have a specific goal, and aim to achieve a certain result. To keep kids interested and engaged the Yoga Break for Children has many games, craft activities, as well as books suggestions
On September 19-20 2015, I will be offering the Yoga Break for Children training at my Well-being Yoga studio in Mississauga, Ontario.
You can read more about the Yoga Break for Children program and details of the training here.
Parents, teachers, yoga teachers, or anybody wising their children or students to benefit from a yoga practice can take the training.
I am also happy to announce that the early bird special is extended until September 15, 2015!
Don't miss this opportunity!
There are still spaces available.
Reserve your spot here!
.
It was exciting to share with you my love and passion for yoga practice.
I hope you got inspired to start or continue your personal yoga practice and share it with children and students!
If you are not sure where to start, what to do, or how to plan and organize your yoga classes, the Yoga Break for Children training will be a tremendous resource!
Do not hesitate to contact me if you have any questions or need help with registration.
Hope to hear from you soon.
Get inspired and keep practicing!
With love,
Irina