I wrote this article many years ago. The kids in the picture are no longer little; they will be graduating from high school soon.
They come and visit, and melt my heart by saying: "Hi Miss! I remember yoga that you taught us in grade one. Sometimes I do it at home."
Knowing that I made a difference in that person's life and possibly planted a seed that will sprout into a healthy lifestyle and kindness towards others gives me the sense of meaning and the drive to carry on.
Enjoy!

I have been working as an elementary teacher since 1999. After teaching yoga to my students secretly, behind closed doors, for a few years, I finally approached the principal of the school and told him that I wanted to take some courses on children's yoga and bring the yoga program to the school. He replied, "If this is your passion and your interest in life, by all means, do it. Go ahead, take courses, study with the best teachers, but it's going to be a long time before we see yoga in schools."
He was a very wise man, a very experienced principal at the end of his career, who knew better than anybody else how schools and school boards operate. I had no reason not to trust him, and went ahead anyway, by pursuing my passion of yoga education for children.
My principal was very supportive, and the first yoga kit for the school was purchased. The kit consisted of a children's yoga book, set of yoga postures cards and three DVDs.
Only two years later, still working at the same school, I was asked by our new vice principal if I would be interested in teaching yoga to all the classes in the school as part of our Turn Off the Screens week-long event.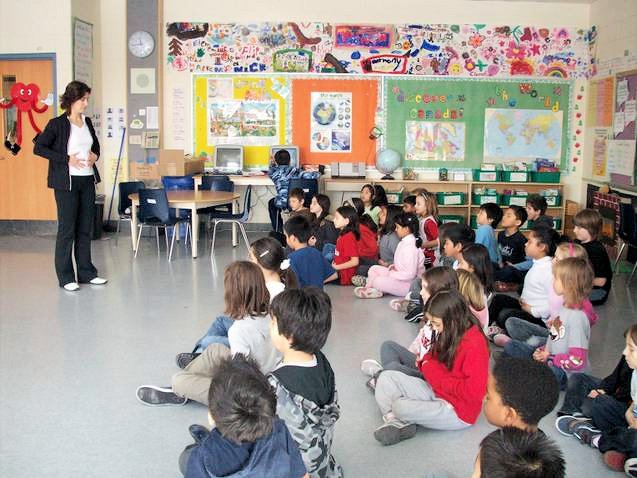 It made my heart sing! I could not resist introducing yoga to nearly 600 children. It was amazing! During that week our students had a chance to experience, along with yoga, floor hockey, dancing, author presentations, seminars and other activities for which "screens" were not required.
At the same time I proposed professional development workshops on how to teach yoga to children for the teachers in our school board as an after school session and at summer institute. I have been conducting these workshops ever since.
For next year, thanks to the collaboration of parent council, administration, public nurses and teachers in our school, we planned a Wellness Night. I conducted two yoga sessions for parents with children and intermediate students.
I am teaching a regular, consistent yoga program in my grade one class and occasionally rotate with other teachers to introduce other classes to yoga.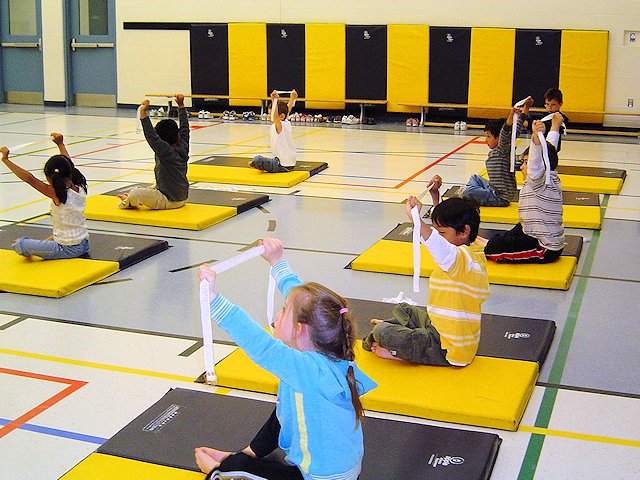 There is strong evidence that our school will continue with Healthy Life initiatives in the future, just like many other schools in our board and across Canada.
What a difference a few years make! Now yoga is recognized by the school educators as a practice that benefits students on the physical, mental, and emotional level.
In her K-8 Yoga Ed. Tools for Teachers Manual, Leah Kalish MA, the former program director of Yoga Ed. and founder of Yoga Playgrounds says: "The practice of yoga has demonstrated efficacy in reducing stress, achieving emotional balance, developing focus and enhancing cognition. In addition, yoga improves cardiovascular, respiratory, musculoskeletal, endocrine and nervous system health."
She identifies the following benefits of yoga:
yoga is not competitive
yoga is a practical, low-cost preventative medicine
yoga creates balance, integration, flexibility, and quiet
yoga expands and enriches awareness and sense of self
yoga is not an intellectual process; it is experiential and social
Based on these benefits, yoga and school education is a perfect match.
With introduction of mandatory Daily Physical Activities (DPA) in schools, yoga receives additional attention as one of the ways to keep our students successful, healthy and educated about healthy life choices.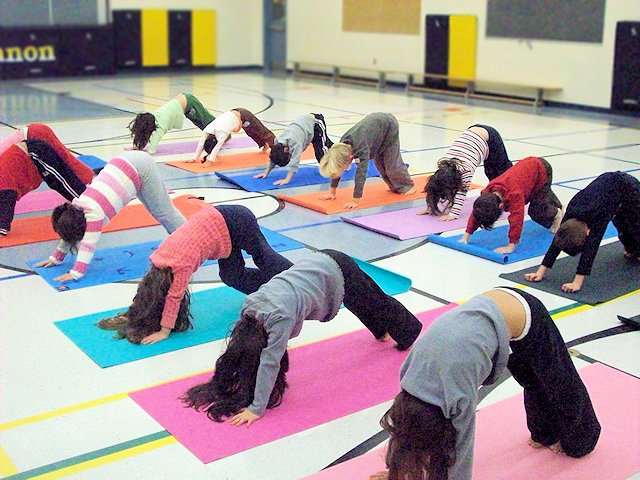 In her book Yoga In Your School, Teressa Asencia points out: "It is possible to build body strength and flexibility through many forms of physical exercise. The unique aspect of Yoga is that it builds inner and outer strength, endurance and flexibility. In addition to enhancing physical and mental well-being, Yoga teaches students to concentrate, release tension and develop inner qualities such as patience and insight. With regular practice, students learn to develop better self-control, inner confidence and focus.
Regular Yoga practice unifies the two sides of the brain, allowing information and knowledge to enter the brain at deeper levels. Practicing the exercises together enhances the relationship between teacher and students, enabling them to work together productively and enjoy the learning process."
With yoga gaining popularity in schools, and as children's extracurricular activity; there is an increasing demand for yoga teachers specializing in yoga for children.
There is also the need to educate school teachers and administrators about the benefits and possibilities of using yoga and yoga-based practices, from elementary all the way through secondary levels.
Yoga Break for Children offers the training to fulfill those needs.

In September 2003 Mariam Gates wrote in Child Magazine: "Within the next five to ten years Yoga in school will be the norm."
Look at how far along have we come! Think of our students' progress, achievement, success, and transformation that could be achieved by integrating yoga in our educational system!
The possibilities are endless.
What is your experience with yoga in schools?
Please share in the comments below.