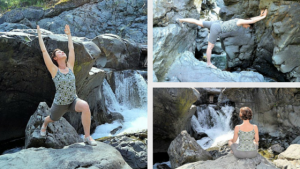 It is officially summer!
Kids are finished school and starting their summer break.
After running the report card marathon, cleaning and packing their classrooms, teachers can now turn off the alarm clock and eat, sleep and go to the washroom any time they feel like it. (I apologize for the details, but that is the reality of teacher's life during the school year.)
If you are anything like me, a teacher, you are probably looking forward to the slow-paced summer days, when you can relax and rejuvenate.
The books that you've been wanting to read for the past 10 months are now finally opened. You can catch up with all of the missed episodes of your favourite shows. You finally have time for your kids, friends, spouses and partners without apologizing for being busy all the time.
You are probably also thinking of different ways to release accumulated stress, tension and nurture your body and soul in preparation for the upcoming school year.
Just recently, I came across a very helpful article that suggests Five Ways for Teachers to Recharge This Summer. Even if you are not a teacher, check it out. You can read about activities that can help you drop the heavy emotional baggage and become grounded, calm, positive and a generally happier person.
If you are a parent, summer is an ideal time to do more sports, yoga and play with you kids. Spend time outdoors as a family or a company of friends and develop closer relationship with people that you love and those who are important in your life. And what better way to do it than to play games!
If you didn't have a chance to request my FREE Yoga Games PDF resource, do it now.
Playing games is pure fun for all ages. We all need to play.
In addition to having a good time, kinesthetic yoga games offer many benefits and help us be fit, look younger and stay positive.
Grab your FREE Yoga Games PDF resource and immediately get access to a variety of yoga games that you can play with your friends, kids and family this summer.
Stay tuned for my next few letters where I will be talking about how to stay cool in the summer.
I am going to be travelling a lot in the next few months. So, I started to think about how I can keep my work-out, yoga, and meditation practices alive and regular while I am travelling. I will share my ideas on this topic with you as well.
I am also looking forward to a very special learning and practicing time with my yoga teacher in the mountains of Colorado. I am sure there will be a lot to tell after I return.
I want to wish you an amazing and safe summer!
Enjoy the sun and the gifts of the outdoors!
Stay active, do yoga and be well!
With love,
Irina