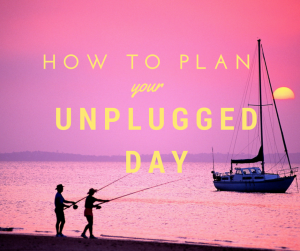 Hey there,
Let me share one more thought on unplugging.
After reading The Unplugged Experience and 10 Ways to Unplug, my teenage daughter decided to try it and arranged a technology-free day with her friend.
However, the night before she came to me puzzled, "What if one of us is late, how can we communicate? What if something comes up and my friend can't come? What if you need to talk to me?"
We both realized that we need a plan.
And that is what this blog post is about – planning for your unplugged time.
How to Plan Your Unplugged Day
1. Finish small projects that involve a digital device: reading an article, typing a letter or a document, researching something. By tidying up loose ends, you won't be tempted to go online and finish it.
2. Answer as many emails as possible, clean up and organize your mailbox. I do it every day when the task is small and manageable. By doing it regularly, you don't have to do anything extra before your unplugged day.
3. Call, text or talk to people you think might need to contact you on your unplugged day. Settle whatever needs to be settled and let them know that you won't be available on a certain Which bring us to the next point.
4. Designate a contact person for the day you're planning to be away. If you have children, elderly parents, relatives, friends or anybody who depends on you, talk to them. Reassure them that everything will be fine and let them know whom they can contact if they need anything.
5. Be proactive about your unplugged day. Prepare. Try to foresee what technology assistance you might need. If you're driving someplace new, print a map. If you're cooking something new for dinner, print a recipe. Going to a movie or show, check the times and location the day before, and so on.
6. Other things, uniquely yours, you need to do.
Are you doing something exciting this weekend? How about a rest day from technology?
Did you pick what you want to do? Did you do your planning?
Just yesterday, I heard this awesome, timely expression:
Off your device and into your life!
Have a wonderful unplugged time!
Kindest wishes,
Irina
P.S. Please share your unplugged experiences in the comments below. I can't wait to hear what a great time you had!
P.P.S. If you like to receive healthy living and yoga tips, please sign up below.