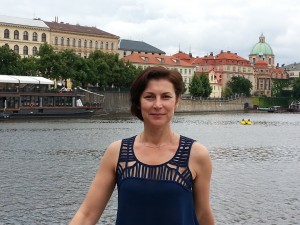 Hi there!
I am back from my summer travels and I missed you a lot!
What a summer! I visited three continents and five countries, flew on eight airplanes, traveled more than forty hours on long distance buses and in cars and lived in five different hotels.
It wasn't easy to keep my yoga practice going.
What made me do it is the fact that yoga is very beneficial for your mind and body during traveling.
When you are on the road your mind gets scattered from too many impressions and stimulations – new places, people, feelings. Sometimes it is difficult to concentrate and focus. A simple short meditation can be very helpful. Just sitting in a comfortable position and observing your breath can do wonders for releasing stress and getting mentally relaxed.
Modern traveling involves a lot of sitting. The airplane and bus seats are not exactly the most comfortable. I personally experience stiffness and sometimes pain in my hips, back, shoulders and neck after prolonged periods of immobility. That's why a gentle yoga practice is a must after landing someplace new and exciting.
This summer I went to Prague. It took me eight hours on the overseas flight, waiting for my connection for another two, and flying for another two hours. Once I checked into my hotel room, the first thing I did was a short yoga practice. It soothed my aching body and grounded me mentally. A short walk through the beautiful old streets helped with a restful sleep. The next day I was ready to embark on my European adventure.
Just in time for this post, I came across this article from The Chopra Center by Jenna Saunders Top 5 Yoga Poses to Ease Jet Lag. I hope you will find it helpful next time you travel.
A few yoga moves and breathes can very quickly change the way you feel and think.
Wouldn't it be amazing if we had a set of short yoga practices to help us with different issues and conditions?
It would have been even better if people around us use them too, especially our children.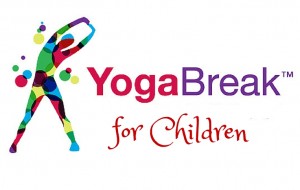 That is exactly what the Yoga Break for Children program offers.
I've been developing this program for the past few years for myself, my children and students. Being a school teacher I use the Yoga Break for Children program in my classroom every day.
Teaching yoga to children in schools and as extra-curricular activities benefits them physically, mentally, and emotionally. My goal was to move further, by providing children with knowledge and skills on how to apply learned yoga poses, affirmations, breathing techniques, meditation/visualization and relaxation in everyday life for regulating and managing themselves.
I also included self-inquiry questions to develop self-awareness and information on nutrition and healthy lifestyle.
By teaching the Yoga Break for Children program you will educate children about self-regulation and self-care, which they need in every aspect of their life.
Yoga Break for Children training is for school and yoga teachers, social workers, child and youth workers, family therapists, E.C.E., psychologists, medical workers, parents or anyone working with children.
In Yoga Break for Children training you will learn how to:
take a yoga break and perform self-care
address various emotional states and balance them
use yoga sequences to regulate the energy level
calm down, de-stress, and relax
release sluggishness and energize
use affirmations and make your own for specific needs
use various tools to improve focus and concentration
prepare for a learning process using yoga
use self-inquiry questions and topics for personal growth
use age-appropriate literature to introduce problem solving through yoga
use yoga philosophy to improve behaviour and social interaction
You will also learn:
yoga poses
breathing techniques
visualizations, relaxation, meditation
mindfulness practices
story telling with yoga
yoga crafts
yoga games
After taking the Yoga Break for Children training you will be equipped with many tools, methods, techniques, and ideas to lead yoga classes and yoga breaks, as well as skillfully integrate mini yoga practices in children's daily schedules.
On my website you will see that I mentioned that the Yoga Break for Children manual and a work book are still in progress to be created to support the implementation of the program. In this September training I will be giving out handouts with the information and reproducible pages that you can use when teaching the program.
You can read more about the Yoga Break for Children program and details of the training here.
On September 19-20 2015, I will be offering the Yoga Break for Children training at my Well-being Yoga studio in Mississauga, Ontario.
I am also happy to announce that the early bird special is extended until September 15, 2015!
Don't miss this opportunity!
There are still spaces available. Once the school year begins, they will be filling fast.
Reserve your spot now!     http://well-beingyoga.ca/register/
I had a fantastic summer. I am starting a new school year with renewed energy and tons of new ideas for teaching academics and yoga. I can't wait to share with you what I've learned and developed in the past few months.
Thanks again for your time and making space for me in your mailbox. I hope my letters are helpful and informative as well as inspirational and motivational. I will do my best to keep it this way.
Until next time!
Wishing you sunshine and love,
Irina