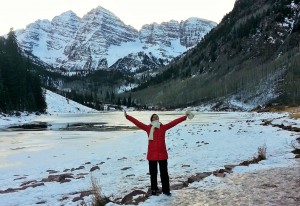 Hi there,
I haven't sent a newsletter for a long time and I've sincerely missed you.
I want to be open with you and let you know what's going on.
In the past 5 months I took four amazing, very intense trainings with my teacher Yogarupa Rod Stryker in Colorado. To say that it has been informative and transformative, is not giving it justice.
It's been insane!
In my 27-year love affair with yoga only now am I understanding what yoga is and how effective it can be.
Here is the deal!
If you're practicing yoga and it's the same old crap in your life, then your practice doesn't work, regardless of how far your leg is behind your ear.
The right practice should help us evolve and grow. Consequently, as we change, our environment, relationships and life events will align accordingly.
This is it! Our yoga practice has to be helpful, practical, has to support, and for some of us, sustain our life.  
Indeed, my daily yoga and meditation practice feeds my body and soul and supports me on my life journey.
The past year has been brutal and amazing at the same time. My previous yoga practice didn't work for me anymore. I had to break the old patterns and make my yoga practice my own. It took some time to research, study, develop, integrate, assimilate, adopt, embody and much more. This process is far from being finished. In fact, I hope it will never end, just like the love of your life that is ever growing and expanding.
I'm loving my evolved practice and already feeling and experiencing the effect of it in my life. The transformation began inside and spilled out like the overflowing spring river. First my perceptions and my thoughts changed, then my desires and dreams, and then followed my choices, my words and my actions. Life became an adventure and I am the enthusiastic traveler.
As an integral part of me, my outlook on teaching yoga has changed as well.
I want to share with you the precious gift of yoga, a thousand-year tradition with limitless possibilities that will ignite and transform you and your life.
I'm inviting you to apply this comprehensive and harmonious approach to build the best life you could live rooted in the wisdom of yoga and meditation.
I've been working on something new to release next year. It's the result of my long-time 'cooking' in all these creative juices, inspired by yoga, meditation, psychology, life experience and the inner need to contribute to well-being of people around me. I promise, you will be the first one to know, when it's ready.
Meanwhile, I am excited to go back to teaching yoga classes at my Well-being Yoga studio in Mississauga.
If you're located in the GTA please join me on Tuesday December 29, at 6:30 p.m. for a FREE yoga class.
You'll get a taste of what's coming and together we'll celebrate the reopening of the studio. Spaces are limited, please reserve your spot ASAP.
If today's message spoke to you, please feel free to write to me. You can leave a comment below and continue the conversation about evolving and personal transformation, or drop me an email and we'll talk.
I can't wait to hear from you.
I wish you the best holiday ever! Let health, happiness and prosperity be your constant companions!
With much love,
Irina