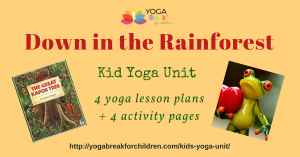 You might have read a blog that came out last week, where the author made a very bold and provocative statement: "Stop the kid yoga bullshit".
As I continued to read, I started to feel uneasy. Her opening statement was, "For the love of God, please can we stop the jungle adventures already!" After all, my April's kids yoga unit is all about rainforest animals and can easily fall into her definition of "jungle adventures" and "kids yoga bullshit".
The same day I received a message from one of my students in the Yoga Break for Children online training asking for my opinion about the ideas the author talked about in her article.
I took a few days to think about it and my answer is, "It depends…".
Let me explain.
As children's yoga teachers and enthusiasts, we are first of all yoga teachers and yogis. When we do any kind of yoga it's good to keep in mind what the purpose of yoga is. Right, I am back to yoking and unity.
We do asana – yoga poses, to prepare us for pranayama practice – breathing exercises, which in turn prepare us for meditation, which leads to fulfilling the highest purpose of yoga, unity with the highest. (You can replace the last word with your own word choice here.)
So, where does it leave us when we do yoga with children?
We do yoga poses to strengthen their physical body (annamaya kosha) and improve balance and flexibility. Then we do breathing exercises to address and balance the pranic body (pranamaya kosha). And finally, we move into meditation, working with our thought processes (manomaya kosha). From there, we work on strengthening and expanding the yoga practice so the children can connect with themselves, know themselves better, self-regulate, and develop the foundation for future deeper and more advanced practice.
Where do animal, insect, and nature yoga as well as dance, yoga stories, yoga games and other yoga-inspired activities fall in place?
My take on it is that they are tools which can help us access children's nature in an age-appropriate manner. All of these activities are important and valuable as long as we keep in mind the higher, overall goal: WHY, in the first place, we are doing yoga with children.
There might be secondary goals such as educating children about the animals, nature, feelings, chakras and more. And they are valuable too and can be achieved through yoga. As a matter of fact, I use them all the time in my Kids Yoga Units choosing a different theme every month.
It's almost like a goal mandala or a Purposeful Yoga Teaching Mandala, as I call it. In the center is your primary and ultimate goal of why you are doing yoga with children. Then out of it comes your secondary goals, something you teach along the way. And out of them come the tools you are using to achieve it. You can download the Purposeful Yoga Teaching Mandala template here.
There is nothing wrong with having an extensive and versatile toolbox of yoga teaching tools to engage the children and achieve the goals you set up.
I'd even say that it is a sign of professionalism and a skillful use of available resources when a children's yoga teacher uses as many instruments as possible in her teaching.
The key is not to lose sight of why we are doing yoga with children in the first place and tailor all of your activities to serve that goal.
So, shall we stop or continue the "kid yoga bullshit"? I'd say it depends…
It's up to us, children's yoga teachers, NOT to make it "bullshit" and teach meaningful, purposeful and authentic children's yoga classes even if we're doing jungle adventures.
I'd like to know what you think. Feel free to reply to this email, leave your comment on the Yoga Break for Children Facebook page or the blog below.
Be well and do yoga!
Irina