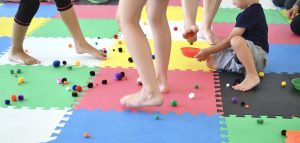 Do you think our children spend too much time in front of screens?
Did you know that the average eight- to ten-year-old spends nearly eight hours a day with a variety of different media, and older children and teenagers spend more than eleven hours per day?
Scary stats!
I don't even need statistics and research to tell me that. As a school teacher, I know it firsthand.
Every Monday morning my students write in their journals about their weekend.
The shortest and saddest story I get is this "I just stayed home and watched TV".
I even get these kinds of stories after a one or two week break.
What's more upsetting is that more than 50% of my students write this! They have nothing else to tell me after two days or a week spent with their family!
I don't expect my students' stories to be about elaborate and expensive trips and activities. But what about a walk in the park? A bike ride? Building a snowman or collecting colourful fall leaves?
What about an old-fashioned playground, jump rope, ball, hockey stick or just playing games in the living room, basement or backyard? How many games do our kids actually know, excepts fighting villains with heroic superpowers?
Here is a peek into my grade two classroom:
[…Ok, you're watching movies and playing computer games, so let's write about that. The topic of today's journal entry is "My favourite movie, show, or a computer game".
My students eagerly begin writing. In a few minutes I get a question, and then another one, and another one… "Mrs. K, how do your write 'fighting and war'? How do you spell 'killed and died'? Can I write 'his body exploded into thousand small pieces?'
I am standing in the middle of the classroom speechless.
What's happening to our children?
I asked my students to stop writing and close their journals. I'll come back to this topic later. I'll talk to them another time when I'm calmer myself. For now, I want to play a game. A real children's game.
I was going to write about games today.
I got sidetracked because I felt that it's important to recognize how disconnected our children have become from games and play.
Kids are still kids even in our modern, high-tech world. Despite everything that our children have to deal with, they are still fascinated and deeply in love with games.
I think it's our role as parents and educators to reintroduce the magic of imaginative and creative play back into children's lives.
As elementary and yoga teacher I have been incorporating yoga games into my teaching and with my own kids for almost two decades.
Yoga games are excellent for class management, as well as presenting new concepts and information. They are great timesavers for transition times when you quickly need to shift children's attention and focus. Yoga games also could be used as breaks and rewards during the day.
Kinesthetic yoga games are not only lots of fun to play, but are also extremely beneficial for developing strength, flexibility and balance. Yoga games, along with other playful yoga-based activities, help kids release stress, tension, and create a positive, mental and emotional state.
Seeing how beneficial yoga games for children, I included yoga games in every module and every lesson plan of the YogaBreak for Children online and in-person training.
On Saturday, June 17, from 1 p.m. – 3 p.m., I will be teaching a 2-hour workshop Summer Yoga Games for Children at 5 Elements yoga studio in Brampton, Ontario.
If you are in the GTA, I encourage you to register and expand your repertoire of fun yoga activities, which you can do with both children and adults. Your investment is $40.
Please note! You don't have to be a yoga teacher or a school teacher. Anyone interested can join!
Register
I know some of you are not that close.
Even if you are from USA, Canada's West Coast, Russia, Spain, Italy or New Zealand I want you to try yoga games with children.
If you can't attend the workshop, but would like to receive a FREE download Yoga Games 3-Card Set, request it here.
Please send me my FREE Yoga Games 3-Card Set
For those of you who live nearby, I strongly suggest you register for a live workshop.
Despite all the online training and information available, there is nothing like a LIVE experience; fun, engaging and highly educational.
I hope I inspired you. I hope you got the urge to get out there and do things, experience something new, and most importantly, share it with your children or students.
If you have any comments or questions about the workshop, please be free to comment bellow.
I'd like to keep Q&As on my blog, for everyone to see it and get their answers and clarifications.
My GTA friends and colleagues, see you on June 17th. Register soon, space is limited!
Don't forget to request your FREE Yoga Games 3-Card Set!
Stay active and be well,
With lots of love,
Irina
P.S. If you like to receive healthy living and yoga tips, please sign up below.