– Spring 2008, Canadian Teacher Magazine –
As an elementary school teacher, long-term yoga practitioner and yoga teacher, I have been doing yoga with my students for many years. Relying on my experience and training, I aim to structure and design my classes to make them age appropriate as well as fun. I have tried many approaches, methods and programs, but always felt that somehow they were either incomplete or did not have a strong curriculum connection. I started this year equipped with a new yoga program called Yoga Ed. K-8, which consists of a comprehensive 36-week curriculum, in which the practice of yoga is age-appropriately integrated with an active, playful and scientific exploration of the body, mind and self. The success I am experiencing now with my students is a result of embodying its philosophy and methodology, which empowers me and my students to excel.
It is widely known and scientifically proven that yoga is one of the best exercises for the human body and that the benefit of yoga goes far beyond the actual time we spend in the poses. Yoga means union. It facilitates a union of the mind, body, and breath—so all aspects of our lives are impacted by our practice.
One of the physical benefits of yoga are improved flexibility and balance. Our muscles are stretched and lengthened, which helps reduce the risk of injuries. Regular practice tones the muscles, and builds endurance and stamina. Carrying tension in our bodies takes an enormous toll on our energy reserves.
By learning how to relax through yoga, we benefit from higher levels of energy so we can enjoy our daily activities. Most people breathe high in their chest. This does not allow them to get sufficient oxygen and also triggers the stress response, which contributes to feelings of anxiety. Breathing deeply, as practised in yoga, helps relax the muscles and also brings much needed oxygen to the cells. The deep sense of relaxation also leads to better quality of sleep.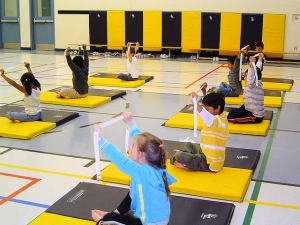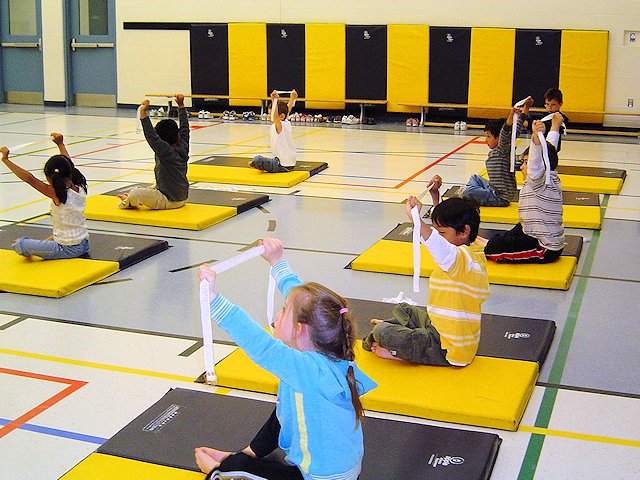 One of the great mental benefits of yoga is that it clears the mind and improves our ability to focus. Deep breathing helps reduce the hormones that are released when we are feeling overwhelmed, overloaded and frazzled. The internal focus that accompanies the poses helps create a relaxation response in the body. Yoga can also help us deal with stuck emotions. By regularly practising relaxation techniques, we gain a sense of peace and tranquility.
The benefits of yoga can also have a positive impact on the lives of our students. Yoga is an effective classroom management technique as it helps to create an environment for learning and to improve students' behaviour. Yoga is an appropriate and interesting way to achieve the recommended 20 minutes of daily physical activity during the school day. Also, yoga can be used as an opening exercise at the beginning of the day, or a restorative transition between subjects and activities.
Yoga offers valuable and effective practices to minimize the stress of testing and supports students in shifting back into a positive and healthy state. It could be smoothly incorporated into visual art, drama and character education or introduced in units on healthy lifestyle and healthy eating. It is an excellent recourse for preventing bullying and violence among students. Use yoga activities to wrap up a school day as an important acknowledgement of shared contributions and individual efforts.
In classrooms that practise yoga activities, such as conscious breathing, basic yoga poses, kinesthetic play and relaxation/visualization, teachers report that the time spent on yoga is well worth it. Both teachers and students feel, behave, and perform better and the class environment is more calm and harmonious.
This year I decided to make yoga an important part of our daily schedule in my grade one classroom. We began every day in acknowledging everyone as a friend thus setting positive intentions for the day. I incorporated yoga in our twenty minutes of daily physical activity. We concluded with a "thankyou" exercise acknowledging both individual and collective contributions.
After we had been practising yoga for a couple of months as short breaks between subjects, something amazing happened. My students had been telling their parents about our yoga breaks and their new poses. One October morning, I went outside to greet my students to find one of them standing in line with a yoga mat under his arm. He said that his mom had sent it with him, hearing that we were doing yoga at school. I showed the mat to the class, and we all had a chance to sit on it, to feel its softness and non-slippery texture. We decided that it would be great if we all had yoga mats. The next morning another boy came with a mat and then another, and then, of course, I brought in my mat. In a month, I had a class set of yoga mats stacked in the corner of my classroom. Now, in addition to our daily short yoga breaks, my students could actually take their shoes and socks off and have a proper yoga class once or twice a week.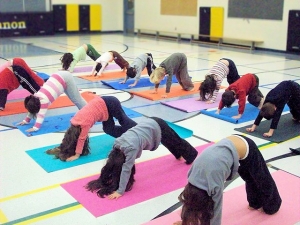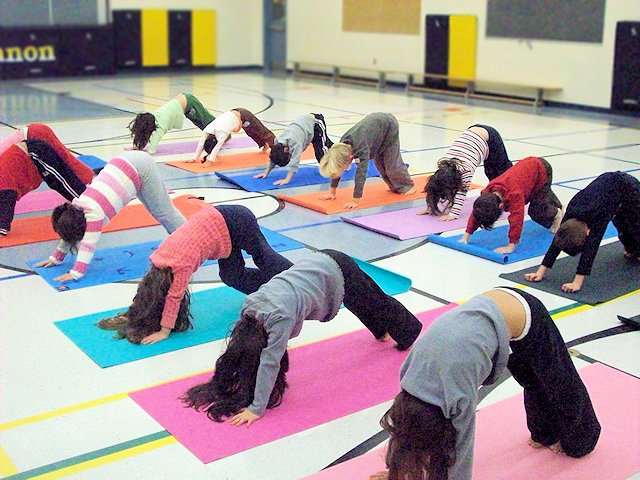 Absolutely loving what was happening in my class and asked by other teachers, I conducted a short workshop on Yoga Tools for Teachers in my school. In addition, the school purchased the resources, consisting of two Yoga Tools for Teachers manuals and a stack of yoga cards for teaching yoga classes, and we became a "Yoga Educated" school. After observing and experiencing the benefits and transformative powers of yoga in my students, I became convinced more than ever that our children need it, our schools need it, and we as teachers can benefit greatly from doing yoga ourselves and teaching it to our students. Taking care of our students every day is demanding and challenging. No matter how tired, upset or unbalanced we are, we have to present ourselves to our students as confident, receptive and patient, setting the tone and the conditions for productive learning as well as positive student behaviour and attitude. The most effective method for teachers to promote a positive and lasting behavioural shift in their students is to embody and portray the desired behaviour in themselves. By "becoming the change" you desire to see in your students, you become a powerful and inspirational model. When we regularly relax, balance, and support our own mind-body states, we become less stressed and more effective.
Naturally, a question arises: "How can I teach yoga if I am not a trained and certified yoga teacher or a long term yoga practitioner myself?" In response to that question, there are training programs available for teachers. One that I can
recommend is Yoga Ed. Tools for Teachers professional development workshop for school teachers, which is accompanied by a teacher's manual. Yoga Ed. Tools for Teachers are simple yoga-based practices that anyone can do in 10 to 20 minutes and experience immediate and longterm positive results in focus, energy, concentration, learning readiness, fitness and productivity. All Yoga Tools activities are designed for the classroom and require no previous yoga experience, extra equipment or space. Alternatively, you may find a yoga teacher in your community who is happy to come to your school to conduct after school classes for teachers and/or students if enough people are interested.
The value of yoga is its ability to shift your physiology, literally change how you are and your state of being. If you are calm, alert and focused, you will encourage the same state in your students. By experimenting with breathing and movement activities, you can activate your awareness and align, open and centre body and mind. Yoga can transform your inner state from chaos to calm, frustration to finesse, tired to energized, tense to relaxed, or distracted to integrated in just a few minutes.
Irina Kazakevic has been teaching dance, music and primary grades for two decades. She graduated from the Sheridan College Yoga Teacher Training Program and has been a yoga practitioner since 1994. Irina has studied with leading internationally recognized teachers in the children's yoga field such as Marsha Wenig, the creator of YogaKids®, and Yoga Ed. Program Director Leah Kalish. Irina is the owner of Well-Being Yoga in Mississauga and conducts Yoga Ed. Tools for Teachers professional development workshops.
For more information please call 416-726-9601 or email:
well-beingyoga@hotmail.com