I am going to India! Antibacterial wipes, diarrhea and malaria medication have been purchased, shots are done, and clothes to cover my shoulders and legs are neatly packed in my backpack. After all these preparations my friend and I are finally on our way to the airport.
The line for the connecting plane flying to New Delhi was long. Visually, there were two distinct categories of passengers. The first category consisted of Indian families, recognizable by colourfully dressed women, numerous children, who were crying and playing, old grandmothers, accurately wrapped in saris of all imaginable patterns and colours, slowly, but independently moving to the door and their husbands, with proud moustaches and beards, some of them in turbans, monitoring the order.
In the second category of passengers were Europeans and Americans, wrapped in bright Indian shawls, carrying yoga mats and sleeping bags. First time travelers to India were dressed in comfortable traveling clothes, whereas the 'regulars' to India stood out by wearing panjabi and kurtas.
During the flight I observed Westerners reading books on yoga, and Indian children and adult using all sorts of electronic devices. I spent some time thinking about integration of the West and the East. Westerners were going to India for the ancient yogic wisdom, knowledge of ayurveda and mystical experience of meditation, while the Indian youth were trying to get a hold of the latest technological advances.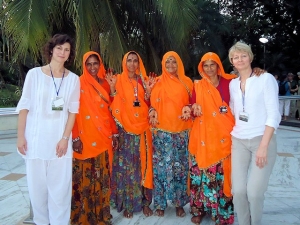 As we stepped out of the airport in Kolkata, we were met by a young man. He was all wet, a river of sweat streaming down his face, which he wiped with a sweat-soaked towel. In just a few minutes I looked exactly like him. The only difference was that I didn't have a towel to wipe myself, so my sweat poured over my body, making my clothes sticky and matting my hair to my face.
My friend and I were one of the lucky ones who were met, preventing us from having to deal with the loud, purse-grabbing taxi drivers, who were desperate to make money off of naïve and polite tourists.
On our way to the ashram I was shocked by constant contrasts on the streets of Kolkata. Cycle rickshaws and wooden carts drove noisily beside expensive cars and modern tourist buses; expensive villas were neighbouring with fields of garbage and rag shacks; beautifully dressed women were walking barefoot on the dirty road; and many more incongruities existed side by side very naturally. I remembered the words of my Indian friend, "Nothing is settled in India." How true!
The ashram was located behind decorative gates made out of cast iron. The stunning architecture with reddish-brown roofs was lovingly painted a soft white. It looked inviting, with the groomed lawn and carefully looked-after flowers. I'll always remember the first impression I had of the ashram: it was an oasis among a desert of poverty.
We made ourselves at home with nothing but thin cotton mattress in between us and the floor. Men on the right and behind a long stretch of cloth, women on the left, like one big family. No wonder we call each other brothers and sisters. This big room became our home for the time of our stay. Here we changed and dried our clothes, boiled tea and slept, spreading arms and legs on the mattress, under the huge fans.
Our first dinner consisted of white rice, baked beans, spicy steamed vegetables, and flatbread with buttermilk. This was the beginning of the three-week long, strict vegetarian diet, consisting of exactly the same food three times a day, with minimal variety. We did, however, have Indian chai with cookies before our morning and evening meditation. I liked the food and didn't mind having it three times a day. Our appetites, however, were diminishing day by day, and after an unlucky experience with buying and eating papaya, which resulted in an upset stomach, a need to eat completely vanished.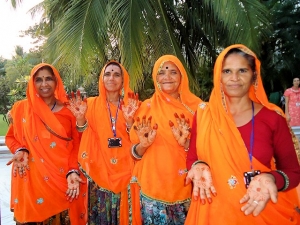 We settled into a comfortable daily routine of the ashram life. The day started with an individual meditation at 4 o'clock in the morning, followed by a group meditation with Master. Another one in the afternoon and the day ended early with another individual meditation/cleaning and a short prayer before bed. During the free hours there were seminars and sessions of questions and answers. We also did some volunteer work by cleaning the facilities and helping in the kitchen. On the outside our life seemed repetitive and uneventful, but the importance and meaning of such a quiet existence was the inner work that was happening during all these hours of meditation and time in between.
On the last day, our Master invited us all to the movies. On three buses, they drove us all to a very modern movie theatre in the centre of Kolkata, where we were offered popcorn and Pepsi. I was curious about what kind of a movie Master had chosen for us. His choice turned out to be quite interesting. We watched Inception. The movie made us think deeply and question our reality. Do we live in reality, or in our dreams? If we think we are in reality, then how real is our reality? Since the essence of our practice is meditation, then how effectively does meditation help us wake up from the illusion and see reality? Is meditation necessary? Is it worth waking up? Master's movie choice was a lesson, artistically introduced by him. As we discussed the movie, we discovered an urge to see it again, and share our ideas with friends and family.
After Master left, the ashram closed and we had to move into a hotel for a day. Awaiting our flight to go to a huge celebration near Lucknow, the day we spent in the hotel was enjoyable. It was a nice break from the ascetic ashram lifestyle. We took advantage of the hot showers, beds, white sheets, the walk to the local supermarket and fully enjoyed the filling breakfast we had the following morning. The rooms with air conditioning brought us into a state of ecstasy and dry clothes seemed like the highest luxury.
When we arrived to our next destination we realized that the local ashram was turned into a small town. Over sixty thousand people were expected to attend the celebration. I was astounded by the organization and extremely hard work of all the local volunteers who made it possible. Everybody had a place to sleep, food was delicious and readily available, but what really impressed me was the atmosphere. Despite extremely hot weather and Spartan living conditions people were calm, friendly and socialized with smiles and laughter. All were welcomed, accepted and respected despite nationality, gender or anything else. Human spirit was at the highest. We truly felt as sisters and brothers, members of one big human family. But again, those were outside, insignificant factors. The real goal of our gathering was meditation – meditation with Master. After two weeks of meditating nearly four hours a day, it felt as a very essential part of our lives, where reality opens up and we get closer to our center.
On our way back to Canada we spent a day in Delhi. From the touristy point of view it made sense to go and do some sightseeing. But taking into consideration the heat and our slow-meditative state we decided against it. Instead we took a shower, meditated, went to a near by market to buy some souvenirs and finally left for home.
Only after arriving home I realized the changes that happened within me, while in India. New, transformed, I was a vivid contrast to many things that stayed the same at home. It didn't make sense to me to adopt the old way and live as before. Instead, I grasped the opportunity to make much needed changes and adjustments. That special state, which I came in from India, made it possible to see my life from a different perspective, to rethink relationships and to set new priorities. It felt like the fall of the fog curtain, revealing brighter reality. As in the movie Inception, I was awakening from a dream. But the most important realization is that life became clear, light, easy and more pleasant. Did I become a little happier? I don't know, but what I do know is that I want to save and keep that special feeling, that 'state-of-being' for as long as I can, because it is the foundation and the source of my well-being.
Namaste.
Irina Kazakevic
July 2010