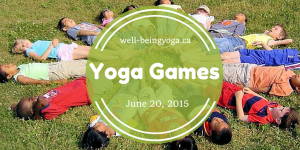 Date: Saturday June 20, 2015
Time: 9:00 a.m. – 12:00 p.m.
Location: Well-being Yoga studio
This experiential workshop introduces a variety of games that you can play with kids and adults.
Yes, yoga games for adults too!
We all love to play and laugh, release tension and bring playfulness into daily life.
Yoga games have many uses.
You can play yoga games during yoga classes, in schools, at the workshops, teacher trainings, camps, and family gatherings.
Improve your health with yoga games.
Whether you are a yoga or a school teacher, camp leader or a parent you will learn a variety of kinesthetic games and fun activities that develop strength, flexibility, balance, and facilitate stress release.
Bring your yoga to the next level.
While playing yoga games, participants will improve their knowledge of yoga poses, breathing techniques, and learn a variety of ways to self-regulate.
Yoga games enhance the learning process.
Whatever group you are working with, games are an excellent way to 'break the ice', introduce a new concept, practice learned material, conclude the lesson, and build a community.
Stand out from the crowd.
Incorporating games in your teaching or practice will make your classes stand out, attractive, fun and simply irresistible.
All ages are welcome.
Children (age 6 – 10) – $10
Adults – $60
Weather permitting we will have the workshop outside, so come prepared (wear appropriate clothes, bring sun protection, water and snack)
Come on over, play and learn, meet new friends, and have a fantastic time!
Read more on my blog Yoga Games for You and Me
Register