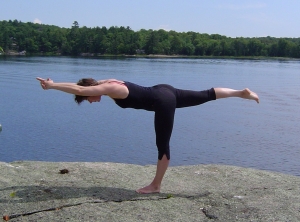 At Well-Being Yoga Studio we provide a healthy alternative to the business oriented approach of teaching yoga. We offer a non-competitive, inclusive, and compassionate environment for students, regardless of age, gender, or physical abilities. Our small class sizes (not exceeding 10 students) provide personal attention, ensure safety, and allow individual instructions. We strongly believe that yoga should be accessible to everybody. There is no need for expensive "yoga clothes", since comfortable, loose clothing is all you need. We provide mats and other yoga props at the studio for your convenience. A private, serene space, filled with good intentions, is waiting for you to begin or continue your yoga journey.
Irina Kazakevic teaches traditional Hatha yoga. Her teaching philosophy is based on the belief that the practice of yoga is more of an exploration and discovery process rather than a goal-oriented activity. Yoga is a feeling of joy and a way of living. Yoga can cure, support, fulfill, and transform. The benefits and possibilities of yoga practice are endless and, by stepping on the yoga path, we open ourselves to many wonderful and unexpected gifts.

Schedule
Tuesday 6:30 – 7:30 p.m. – Tantra flow, Moon practice
The moderate pace of this class allows students to pay close attention to the alignment of postures and the exploration of different sensations in the body. You are invited to de-stress, release tension and unwind at the end of the day. Asana (postures) practice is followed by pranayama (breathing) and short meditation.
Saturday 9:30 – 10:30 a.m. – Tantra flow, Sun and Fire practice
This dynamic morning yoga class consists of Sun Salutations (a flowing sequence of yoga postures) and strength developing poses. The focus is on building and accumulating Prana (life force). As always, we finish with pranayama (breathing) and meditation.
All classes consist of combined levels. Modifications are provided for beginner and advanced students.

Rates
Our first class for new students is Free! Come and try it out!
Price per drop-in class – $17
Price per term (10 classes) – $150
You can join a term at any time and the fee will be prorated. Missed classes can be made up during current and following terms, or carried over to the next term (no more than two classes).
Register for our

Well-being with Yoga and Ayurveda

program, which combines yoga classes and monthly workshops and save up to $380!
If you have any questions regarding Well-Being Yoga classes please contact us.
REGISTER
Well-being Yoga offers private classes at your convenient time.
Breathing is an essential part of yoga practice. We learn a variety of breathing techniques to address your current state of being and, if necessary, shift it where you want it to be. During the class we take time to work with alignment and explore the physical and energetic feel of the poses. We develop personalized sequences addressing your individual needs. Spending some time in a relaxation pose at the end of the lesson gives you the opportunity to absorb and utilize the benefits you gained during the practice.
To extend yoga and its benefits into your everyday life, we develop a customized wellness program. It can be modified to suit your individual needs and assist with achieving your personal goals in mental, emotional, and physical well-being.
Learn about Wellness Coaching with Irina.
 Contact us to discuss your personalized program.