Why yoga for children?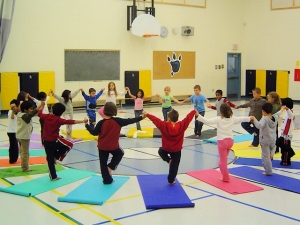 Many people are aware of the benefits of yoga and incorporate yoga practice into their daily schedules. Various studies confirm that the practice of yoga builds strength, increases flexibility, helps de-stress, and improves the body's functions and feeling of well-being. Our children, the future of our society, also need to learn about the benefits of yoga. Their lives are filled with activities and classes, they face parents' and schools' high expectations, and their self-confidence is constantly challenged by peer pressure and media messages. All this leads to the accumulation of stress and tension, inability to focus and concentrate, and the development of different psychological, physiological, and emotional disorders.
How can yoga help? Dr. Marguerite Theophil explains: "Yoga works in many ways; it tones the body and regulates its systems, and the breathing and visualization practices calm the agitated centers of the mind. The increased capacities of concentration and retentive memory naturally improve school work. This in turn enhances self-esteem which sustains effort and interest."
Yoga Break™ for Children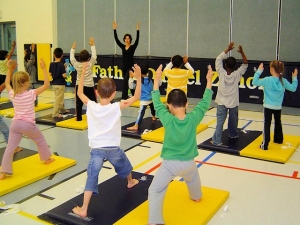 Well-Being Yoga offers a comprehensive yoga program called Yoga Break™ for Children for students from kindergarten to grade 12. Classes can be taught at lunch hour, before and after school, or can be incorporated in Physical Education, Health, Character Education and Leadership. Children improve their physical abilities, clear their mind, release emotional tension, build teamwork, and develop self-regulation and self-management, necessary for the 21st century learners.
The Yoga Break™ for Children program teaches children about the importance of self-care using yoga and mindfulness practices. Using the three-step approach, first we educate the students about self-awareness of their present physical, mental or emotional state. Then we teach breathing exercises, yoga poses, affirmations, nutrition facts and mindfulness practices, which are effective for shifting their current state of being. And finally, we apply what we've learned to achieve the balanced and alert state of readiness for learning and engaging in social-emotional interactions.
We conduct Professional Development for teachers by offering the
Yoga Break™ for Children Teacher Training.
This training is offered at the Well-being Yoga Studio. You can find the dates here, or we can conduct the training at your facility, to all of your staff, at a time convenient for you.
Our in-service menu consist of a variety of workshops from 2-hour sessions to a full day, comprehensive training on how to teach yoga to children. The training introduces yoga tools including breathing exercises, yoga postures, visualization/relaxation techniques, as well as community building games and mindfulness practices. Teachers can incorporate yoga into their curriculum and DPA, or use Yoga Break™ for Children for class management. Teachers also reported that using Yoga Break™ for their own self-care helped them de-stress, and improve focus and efficiency at work.
We can modify or create a program according to a school's request or to match a group's specific needs.
To book Yoga Break™ for Children Teacher Training for your school, receive more information, or discuss your school's specific request please contact us.